Our flight was late-morning, so that gave us time to shower and pack up our things, plus we had to return the rental car. Both of us were looking forward to the Big Island…but since we had been lucking out so much with all the Lost stuff almost didn't want to go.
Of course like most any driving in Hawaii, it was next to impossible to find the rental agency to return the car. After a few u-turns, we finally found it and got on the shuttle to the airport. All was going smooth, until I noticed the little red 'delayed' notice on the monitor for our flight. Uh oh. Then an announcement came on that our flight was delayed for an hour. The only reason we could deduce was that there weren't enough on our flight, so it got bumped to the next one.
Since we had time to kill and it was lunchtime, and the food cart didn't look appetizing, we went to the bar to see what was to be had. We ended up getting a thing of nachos that were seriously delicious, with Kahlua pork (I'm actually making some today in my crock pot). Well, the salsa wasn't the best, but I'm not the biggest fan of salsa anyway and the pork was very, very yum. I had zero problems bolting down half the platter.
Here's me texting with my mom while eating: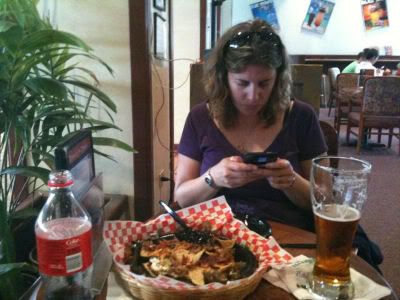 Finally it was time to board and here's a shot of me boarding:
I'm not sure what that expression is on my face, but I feel like all I need are a couple of gold chains and maybe a clock around my neck to complete the image:
The flight was short and smooth and it was open seating, so we moved around to see the other islands we were flying over: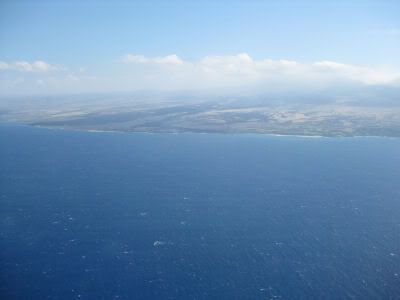 Coming into the Big Island (Kona), you can see the lava fields everywhere: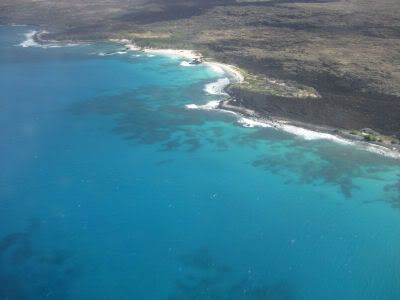 After renting the car we then made the looooong drive across the island and saw some rather interesting things along the way. Not sure what this movie is about, but I don't need to watch a movie about yoga.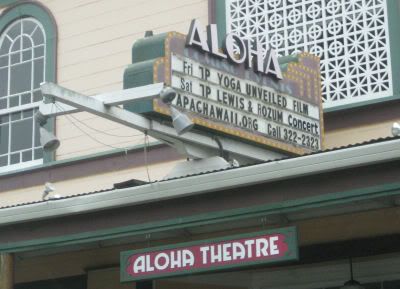 We meant to buy some of these, chocolate covered macadamia nuts, which I'm sure are out of this world.
It was a nice drive of course,the road hugging the coastline for the most part.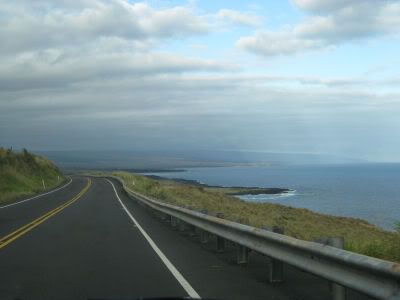 We stopped several times to check out the views, how could we not? From one overlook we saw this pier off in the distance we were curious about, with what looked like a beach off in the distance: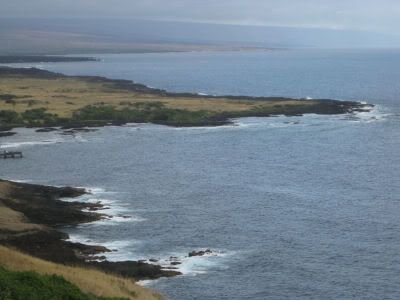 As we drove alone we discovered that we could pull in and park there, so we did. It was very cool to walk around on the lava and an added bonus was seeing a whale feeding off in the distance. No breeching but we saw the plumes and its back as it dove down several times (didn't get a picture of it of course).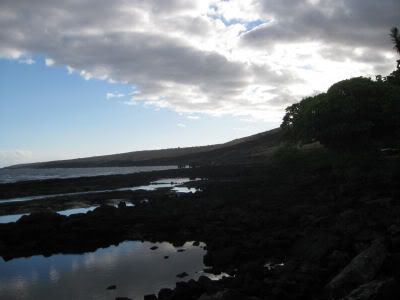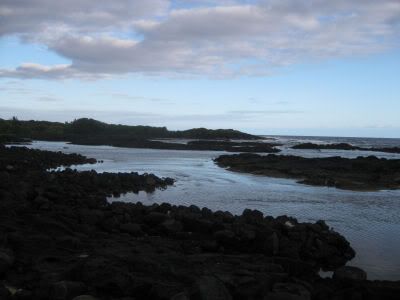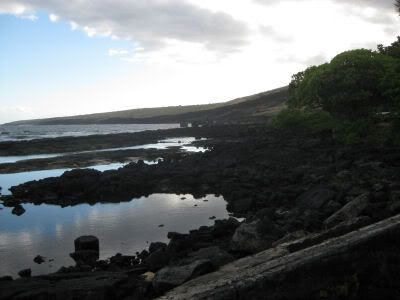 Not sure what kind of tree this is, but it was huge and beautiful.
Sometime later we pulled off at some small, locally owned veggie and coffee stand. They grow their own coffee and he gave out free samples and I have to say it's some of the best coffee I've ever had. I don't even like black coffee and drank mine right down, it was just that good. At the time I was really jonesing for some coffee too, so it just hit the spot. We also tried some dehydrated macadamia nuts and ended up buying a pack, again it was seriously delicious. Our plan was to hit the place on our way back to Kona when we left, but it was unfortunately closed. I wish I had bought some coffee there when I had the opportunity!
On we drove, finally nearing the active volcanoes; the stench was enough to alert us to that, not to mention the
vog
. That and how we were going up in elevation, until we were at 4000 feet above sea level. It was dark now and we were getting nervous about finding an open store for food and more importantly booze, since everything closes so early, so we ended up at some small, local store. One of the places that is primarily for campers probably, in fact we could smell the wood smoke (though since we did go back to eat there, the smoke could have been from their wood burning oven for gourmet pizzas). It had old wooden floors and all the basics you'd need when camping, including alcohol thankfully. I bought some sugar and half and half for our coffee, along with some local brew, a tasty red ale.
After driving forever and stopping at a stupid McDonald's for dinner because by now we were starving and had to eat
something
, we finally arrived at the tree house. Well it is very remote and was difficult to find in the dark, on a winding road with no shoulder and no street lights. Even with the map on the iPhone, it was difficult. We passed it and then lost the internet connection on the phone, so had to use flashlights, but in the end found it okay. Good thing we were already on the right street, I'll just say that.
A very friendly white cat was there to greet us, part Siamese and part tabby. It was nice to see a friendly cat, I missed my cat Lestat a lot on my trip so it felt good to pet a cat again. I ended up calling him Wheelchair, not sure how I came up with that name, something to do with Locke no doubt. I took these pictures later on, but the cat was there to greet us most times we came and went during our stay.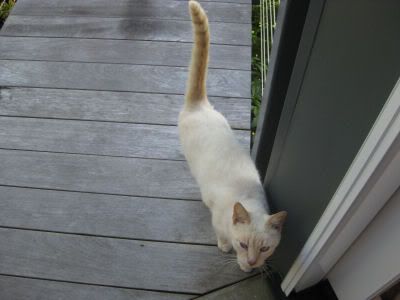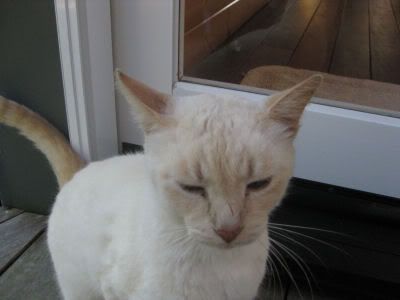 The house is all open concept, as well as part of it being open to the outside, meaning it was only screened in with no glass on the windows in the living room area. It's decorated in a contemporary style, mixed with natural wood and nicely decorated, a nice blend of new and rustic (I'm feeling rather lazy right now to get pics up of the house, but I will first thing next blog entry).
Downstairs were the two bedrooms and bathrooms, I loved that my bathroom shower was outside, with two frosted glass walls, but otherwise open to the outdoors. The only drawback we both found was that none of the windows had any blinds or curtains, which would have been nice for the morning when the sun was shining in. As far as privacy, there was plenty of it so I didn't worry about anyone being able to see inside. The house was near the end of a dead end street and felt like it was at the end of the world. Very cool.
There was no TV and no internet connection, but I really enjoyed being cut off from technology a bit. We sat in the dim lighting and listened to the night noises, and in the distance you could hear the ocean.