I got up around seven – Paul was getting up around five every day, but that fit in with the time difference for him – and after parting ways for us to run separate errands, we headed back up to the North Shore. Our plan was to find Charlie's banyan tree that Ethan strung him up in, back in Season One, and of course bang around our favorite part of the island.
We weren't 100% sure where it was, only the general area, and knew we could go to
Turtle Bay Resort
to find out. After hitting the bathrooms there (on the North Shore when you see a decent bathroom use it, otherwise you're stuck with the nasty and very questionable surfer bathrooms where you may or may not have toilet paper and don't bother using the sink because it may not be there for one, much less with soap) Paul went inside to see if he could find out where it is, while I took a few pictures.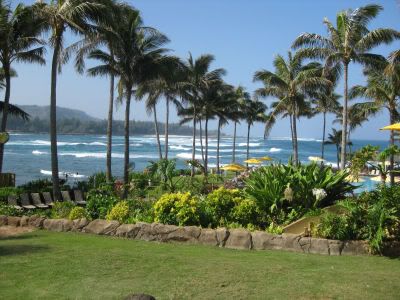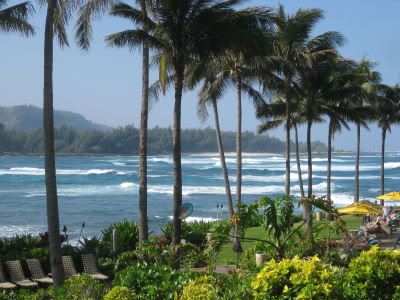 Paul found the location and surprise surprise, they were doing some filming there that day. The crew guys were pretty cool with us, obviously they're all used to Lost fans coming around on a fairly regular basis. When we asked which tree there was the Charlie tree, the guy was pretty cryptic. He said something along the lines of how they use a lot of trees and it could be this one, but maybe it wasn't. When we asked if we could take pictures, he said that he couldn't say yes or no. It was public property and no actors were there, so Paul went and took a bunch of shots. Something weird happened to his camera though, because the pictures simply disappeared.
We hung around on the beach for a bit and saw a huge group of extras dressed up as Others a ways down. Then a bit later I glanced over my shoulder and happened to see a white van drive by, with none other than Terry O'Quinn sitting in the front seat. Right after that I saw Josh Holloway (Sawyer) come by, standing in the back of a pick-up truck. At the time I wasn't 100% sure it was them but was pretty sure it was, and later learned that it was indeed them when another Lost fan confirmed he had seen them too. The beach we hung out at:
A couple women were there, who at first were okay, but they got kind of annoying with how disrespectful they were of everything. The guard kept on telling them to stand back, and they would, but then they'd creep right back up. Filming was going on, and one of the producers came over and asked us to move back a bit, since we were showing up on the film. We did, but these two women kept on creeping back over. They did get their picture taken with Josh, but did so annoyingly. I didn't get my picture taken with him at that time, but did get a wave and a smile from him when I waved. I did take a picture of them getting their pic taken though: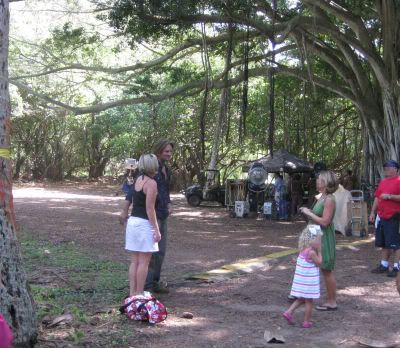 Ana and her family had found their way to the beach by now and the five of us hung out, along with other Lost fans that were around. It was a closed set obviously, but we were staying on the beach and hanging out, not really doing much. Then we noticed a group of people walking out, followed by someone higher up on the Lost staff food chain. I didn't really care at the time, but it turned out that Dennis Quiad was there learning how to surf. Talk about random! He was there with his (very young) wife, seriously we all thought she was his daughter, and apparently he needed to learn to surf for a movie he's going to be in that's filmed in Hawaii. I didn't get my picture taken with him (kind of wish I had now), but I took a picture for Pat. Apparently to her Dennis Quaid is my John Locke, she was certainly getting the vapors afterwards and I was really happy for her.
Not much was going on other than that, and it was getting towards sunset. Paul was out taking pictures and I was standing around with a woman that lived nearby, she was there with her husband and three young daughters and we were talking about Lost and Hawaii and parenting. I glanced over my shoulder and who do I see walking on the shore? Josh Holloway.
Okay, I'll admit that my initial reaction kind of rates on the lame scale. I turn to Michelle, the woman I was chatting with, and point him out, and she and I start running over there like a couple of fangirls. Paul was trying to be cool, he had seen him and was mentally trying to get us to stop, which we did thankfully. Josh had of course seen us, hard to miss two women running all excited out of the woods onto the beach. He had been walking along the beach and then cut back into the woods, and I thought we had blown it, but then he apparently changed his mind and came over. More like sauntering over, with a big old Sawyer smile on his face.
I was the first one there and was trying to not act like a tool, so sort of stood there not sure if I should go up to him or not. He kept on smiling as he walked towards me, I'm not sure if he was waiting on me to go over or what, but finally he came up to me and said "Hi, I'm Josh". Because I don't know who he is…by then the others were there, Pat calling her kids on their cells to get the hell back from wherever they had wandered off to. He then asked everyone if they wanted to do pictures and like we were going to say no to that.
When it was my turn I asked him how fatherhood was treating him (he and his wife had a baby girl last summer) and his whole face lit up and he told me it was great. I think it must have been a nice break for him to have a fan ask something like that instead of the usual 'I'm such a huge fan!" he must hear all the time. I joked to him to wait for the toddler years and stepped away to let others get their picture taken, but he kept on talking parent stuff with me. He wanted to know if mine was out of the toddler stage and how old she was, then asked if one of the kids there was mine and I told him no, that mine was back home up in Canada. I of course think it's very cool that he kept on chatting to me about that sort of thing, while taking pictures with other people, not that he didn't pay them attention, but kept up the conversation with me regardless.
This is my picture with him, I was asking him how he was enjoying fatherhood when it was taken: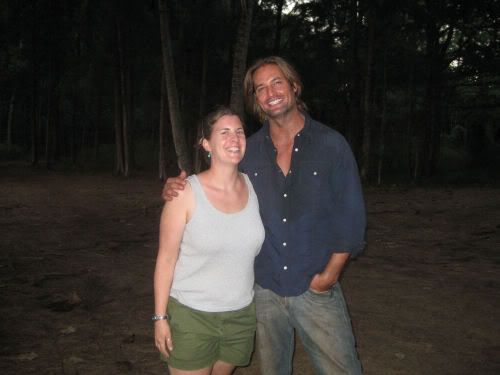 Unfortunately the other pictures taken didn't come out very well, it was twilight, not the best time to take pictures with lighting like that, so I'm glad mine came out so well. Here are some that did turn out good, I felt really bad that Paul's didn't though.
Then the producer came over and it was time for him to get back to filming and by now the sun was setting in earnest. All of us decided to move inland a bit, around the side so we could see if we could watch any filming. As we were waiting, a van went by that contained Jorge and Emilie de Ravin (Claire). Shortly after that Evangeline Lilly (Kate) and Matthew Fox (Jack) walked by about two feet in front of us, but they didn't stop or even make eye contact or anything. Understandable, they were getting ready to go to work and didn't have time, but I still think a smile and polite nod would have been nice of them, considering they were literally two feet away from us. Ana would tell us a day or so later that they did meet Lilly and she wasn't very pleasant, told them "I don't do pictures" when they asked for one. Whatever I guess!
Anyway, we happened to be standing by a huge lighting crane, not the safest place I'm assuming, and were asked to find someplace else to watch for safety reasons. Since it was dark and late and had a long drive across the island, we decided to head out. On our way back to our hotel, nearly at our hotel I should say, I glanced out at the boats harbored in the marina there and just happened to see
Searcher
, the boat used by Penny to find Desmond. We naturally pulled in to take pics just to make sure and it was indeed the same boat when we compared it to screen shots. So glad I happened to see it!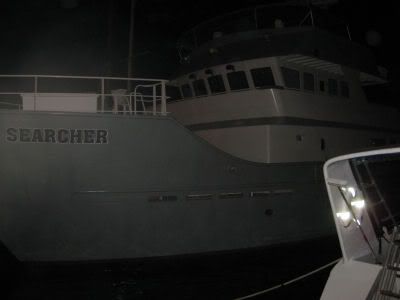 This was our last day on Oahu, the next day we were flying to the Big Island.