The only news about filming that we caught wind of through our little birds was that it was what sounded like a huge scene with a ton of actors…but on private property. We're not above hanging around outside a restaurant on a public street for hours on end, but draw the line at trespassing. Not that we'd get anywhere anyway, the Lost security guards do their job well, and we're not psychos about it anyway.
Our first stop was to have breakfast at a restaurant that was in the tour guides Must See list, a place called Shore Bird. It was right on the ocean, the dining area literally open to the elements, which was of course the beach and the sea. We had a couple of birds keeping us company too.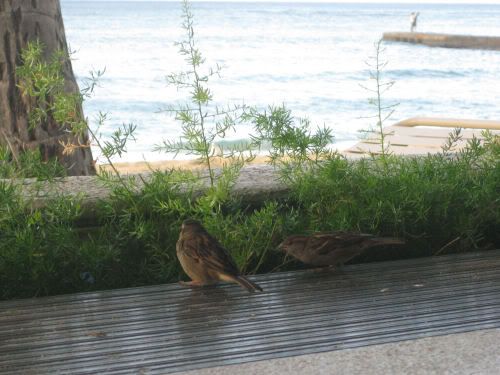 So far so good as far as atmosphere is concerned, but we were both pretty disappointed in the buffet. Not at all what I'd call a Must and we weren't impressed. After eating there we walked around a bit and were coincidentally by the store that sold the rings I was going to pick up for Dave and I. Super cool to finally have the rings we really want. They made of titanium and Koa wood - a tree the only grows in Hawaii and the wood used to be only reserved for royalty.
Wish we had gone into these shops that we saw as we meandered around, the names alone made me curious.
Since we weren't sure if they were done the Locke scene or not, we then swung by the school to double check and everything was gone, including the base camp. No major let down, we expected that and had alternate plans to see some of the Hawaiian sights anyway.
Our first stop was driving to
Kane'ohe
on the East side of the island, which is where the Valley of the Temples is located. This is where the
Byodo-In temple
is located, or as you all may know it, the place where Sun and Jin got married in Lost. The drive there was gorgeous and I know these aren't the best since they were taken from a car and it was very hazy, but the view was incredible.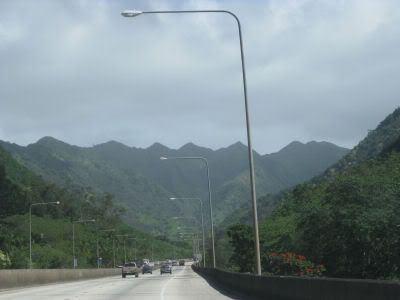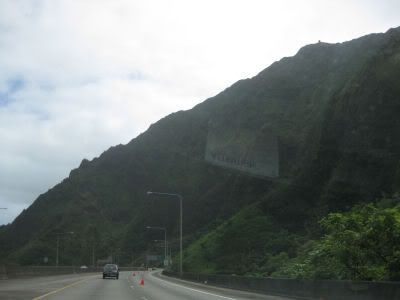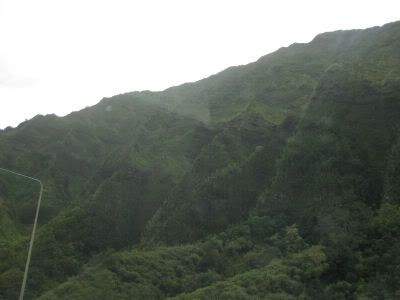 Like I said and you can see, it was very hazy that day and like a couple of idiots we didn't go in to take pictures of the temple. Why? Because we said that we'd come back and do it. So unfortunately no pictures of the temple, or of anything of the Valley of the Temples really. Oh wait, there's these that I took we were leaving the parking lot we ate lunch in (and I was introduced to the extreme yumminess of Chicken Katsu), which overlooked the Valley.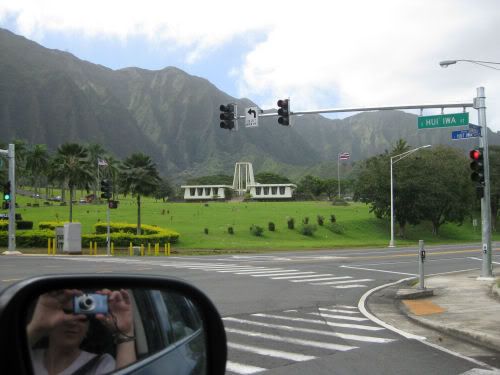 And of course the road leading to the Byodo-In temple…where we decided, nope, let's just come back to the other side of the island another day never mind that we're RIGHT HERE now. We both regretted not going in because it was hazy out and we were worried about not getting good pictures.
So much for that.
Next we hit the
Pali Highway
and again seemed to think we'd be making the drive back because of the haze. Wrong again. Still, the views are incredible here with the jagged mountains and valley and the sea. There are a few lookouts, which some are easy to miss since the signs aren't posted in advance to give warning...a very common thing in Hawaii. One we blew by (the speed limit was around 50mph I think) so we hit the next one we came across. Again, sorry for the picture quality, but it was hazy out that day.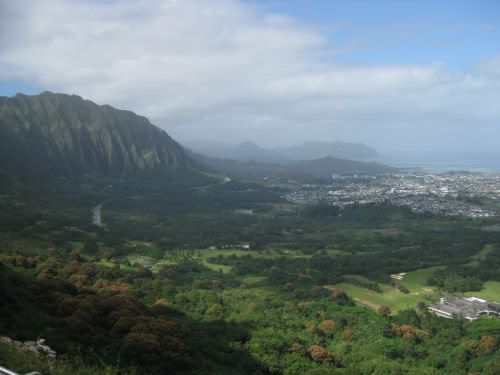 Me enjoying the view. Well, posing for a picture anyway but the view behind me is quite nice.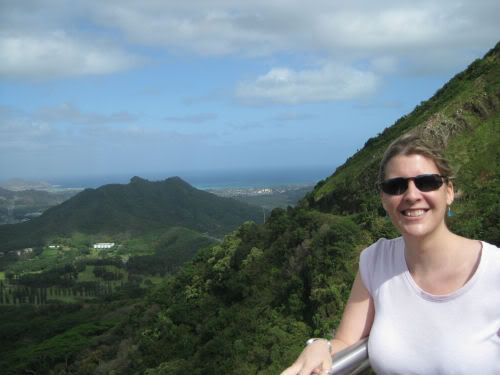 We left that lookout to go back to the one that we passed earlier. This proved to be more difficult than we thought, since there's no place to do a U-turn, traffic was thick and fast and we had to drive back down the highway a lot farther than we thought. There was one lookout we saw, but only pulled in quickly because the view was whatever so we didn't stop. Finally we found a place to turn around and drove back up the highway, finding the turn off. It was a long and winding road, going through thick jungle with some SUV pulled off to the side in a place you wouldn't ordinarily pull off (sketchy to say the least), an old hot tub thrown away by someone (because this is a spot to unload a hot tub, out in the middle of nowhere?), and finally we came to the lookout…which turned out to be the same lookout we had stopped to take pictures of. So much for that!
By now it was getting on in the day and we decided to head back to the city, hitting Costco on the way. Our plan was to get some food and water for the rest of our stay, so Paul did a search on his phone and plugged it into the map. Only, the first location brought us to a very residential neighborhood and where the map indicated Costco should be was in fact the sheer face of a cliff. Time for plan B and we were following the directions…where the street ended abruptly in a concrete wall instead of going under the highway. This was just getting better and better.
After a quick turn around and re-routing, we were on our way to the second Costco. All was going well until we realized that the map said it was located in the same lot as the
Iolani Palace
. Somehow this just seemed wrong to us…. Gee, wonder why?
It had turned into our own little Incident, but in the end we did eventually find a Costco, but by then we were wiped out and hot and only wanted to get back to the hotel. We walked around Costco for a bit and got a couple of things, but realized that for the time we had left and only two of us there, there was no way we'd eat everything. A thing we probably should have deduced before going in.
After getting some water and garlic shrimp, we hit a grocery store, then back to the hotel and some refreshing adult beverages.