There was no new filming that we heard of again, but both of us were eager to head up to the
North Shore
. This is a place where a lot of Lost had been filmed including the original beach camp of the Losties, among other things. We also planned on swinging by the film studio, which wasn't far from where we were staying, to see if any props were outside. We were both hoping it wouldn't include twenty u-turns like all our previous driving experiences so far.
After drinking our coffees and tooling around with the panoramic settings on our cameras to test things out, we left. Thankfully it was pretty straight forward to the film studio, right next to
Diamond Head
, the extinct volcano on Oahu.
There was a handy public park by a community college that we were able to park in, that butted up right against the film studio's back lot. At first it just looked like a bunch of junk, which admittedly a lot of it was – until we saw parts of the Temple. We recognized the hieroglyphics on them, not sure what scenes these were used in, maybe the one where Richard took Jack and Sayid to Jughead? (By the way,if some of the pictures look like they're cut off, just click on them to see full size. Guess I need to size them a bit smaller to fit in the parameters here.)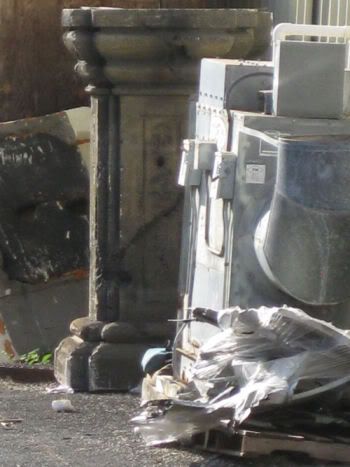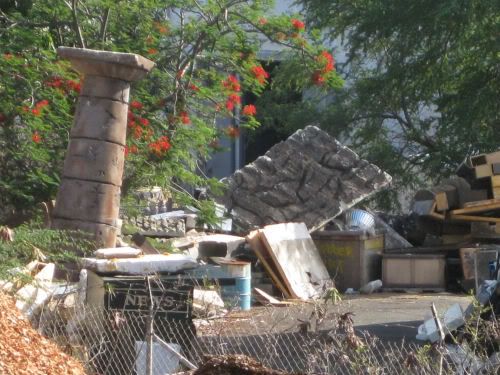 I got really excited when I saw the outriggers used in S5 when everyone was skipping through time and being shot at (still wondering who was chasing them).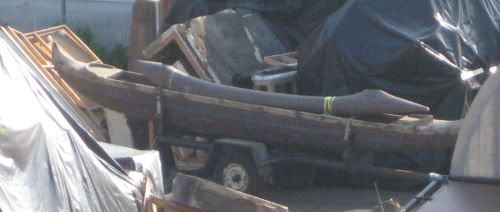 Then the biggest thrill: seeing the Frozen Donkey Wheel, just sitting there outside against the wall, lounging around. Seriously, we did not expect to see something that cool, the device Ben used to move the island.
Not sure what this was used for in the show, but it's obviously Lost-oriented.
There was an open door that we tried to peek in where they were building a new prop, but couldn't see much. The yellow drum thing next to it is also a prop, used in The Incident when they were drilling at the Swan station.
]
Obviously a new prop was being made, but the angle was bad and the lighting terrible. Not that we cared, we were still happy about what was outside in plain view. Too bad we couldn't take something as a souvenir, say the Frozen Donkey Wheel, but that would make a pretty weird carry on item on a plane.
Once done with that it was off to the North Shore. On our way we had planned to hit Dillingham airfield where we heard the fuselage from season one is stored. It's a small airport, for private planes not commercial flights (think rich dudes with their Cessnas) and as we drove by we didn't see much, but were determined to find it. There were two entrances and neither said it was private property and there were no "no trespassing" signs, so we drove right on in. I'll admit it was pretty weird to drive around an active runway, around the back like we had every right to be there (which I suppose we did since it's public property), until we found in the waaaaay back a fenced off area with old and managed plane parts.
There was a huge covered something that was very obviously part of a fuselage. The fuselage, it could only be the one from Lost, but unfortunately covered in a big black tarp. There were signs posted to keep out around the back, so we didn't venture around like good little law abiding citizens. In hindsight, I wish we had just gone around the back, as we heard others had, but oh well. Here's one of the pictures that I did take though: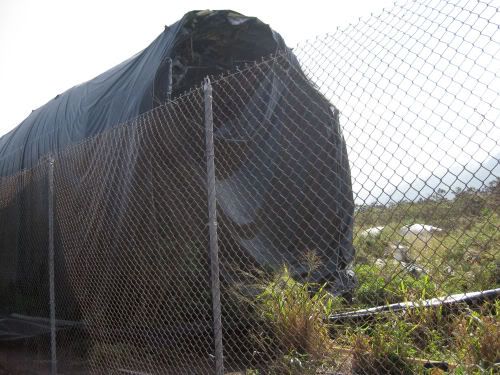 One very cool find was the plane that Eko burned, the drug runner plane, the one Locke had Boone climb up to and Boone heard the radio call from Bernard. We double checked screen caps and confirmed that this was indeed the plane.
Now, it was incredibly hot outside, full sun with little in the way of a breeze, plus there was only so much to do there, so we left. In Hawaii, especially on the North Shore, there's an abundance of places to turn off so you can hit one of the endless beaches there, and that's exactly what we did. The views are just incredible, the water green and so blue it almost doesn't seem real. Just gorgeous. And you guys wanted pictures, well, here they are.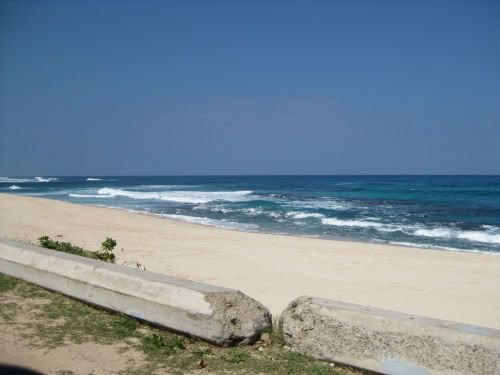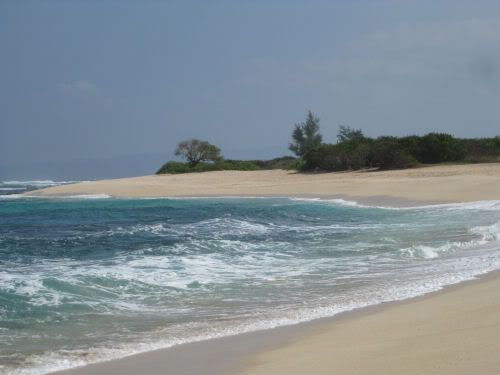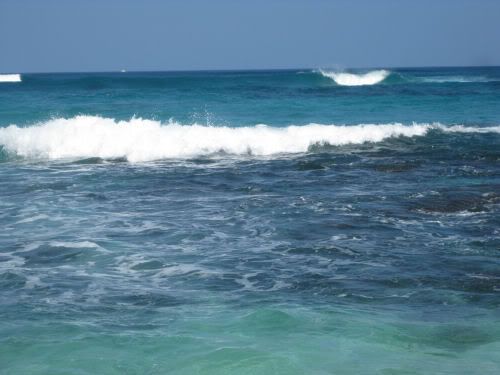 I love this shot I took, of my footsteps on the shore. Too bad a couple of stupid humans are in the shot.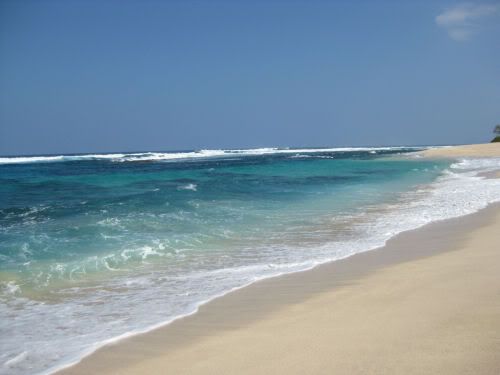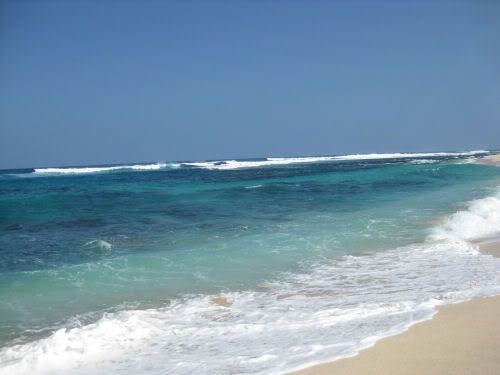 And finally some of me walking around the shore.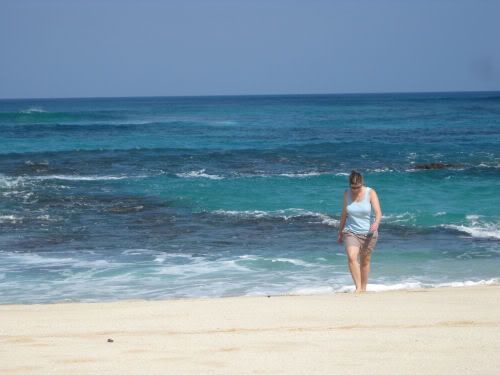 I was really enjoying walking in the surf, since I live inland it's not like I get to see the ocean every day, so whenever I do it's a thing I don't take for granted and I fully appreciate it. I would have appreciated it even more if I hadn't gotten soaked when a huge wave came crashing in too. My own fault, I saw it coming but didn't get out of the way fast enough and was more worried about my camera than my clothes. Thankfully it was hot and sunny and didn't take too long for my shorts to dry out when I stood butt-first into the sun. To kill time while waiting to dry off, I ate some of my sandwich I had brought along (very glad I brought my soft cooler with me to Hawaii and was able to squish it down in my suitcase; we used it daily.)
Then Paul noticed something, a tree that looked suspiciously familiar. Since Hawaii is known for its car break ins, we didn't want to leave the car there, so hopped back in and drove down to investigate. Sure enough, it was Christian's tree, as seen in early S1 when Jack was chasing him into the jungle. I'm sure you all remember it, and geeks that we are, I stood to pose. This particular beach we were hanging out at is also where the premier was filmed.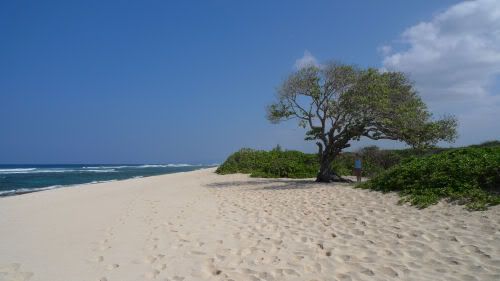 I guess originally there were two trees there, but by now it had been years and storms had their way, plus someone apparently burned one down or so we were told. Bummer. So it looks a bit different than on the show by now, but at least we confirmed it was the right tree.
Next on our list was Camp Erdman, a YMCA, or as you all may know it: New Otherton. Instead of walking around a busy camp – at the time there were buses loading up with kids and a lot of staff walking around – we went to sign in and make sure it was okay to take pictures. We meaning Paul while I waited outside. This sign also prompted us to sign in at the office, you know, since it says to sign in and all.
The place where Lost had done its filming was across the street and instantly we recognized the Barracks, extremely 'weathered' now. One of the staff said the crew did that to the buildings a few months back, made them look older than they really are, and after watching What Kate Does and the scene with Sawyer and Kate there, I now know why.
We wandered around taking a gazillion pictures and here are a few. Alright, more than a few: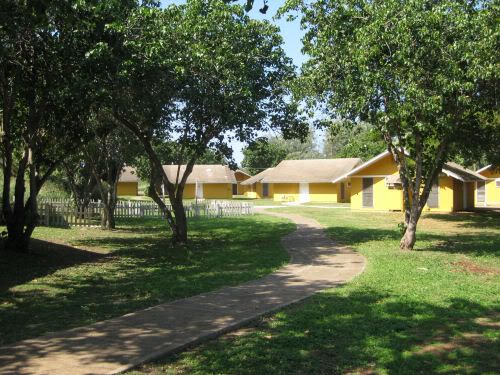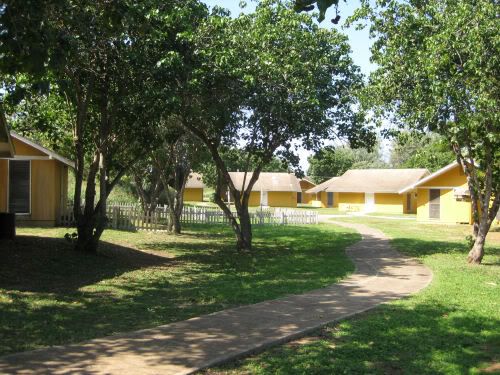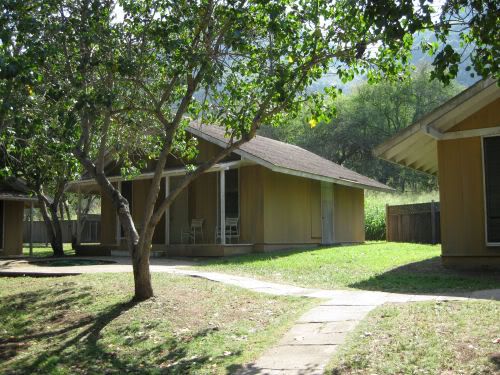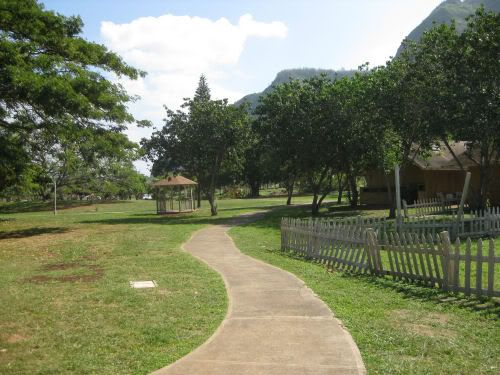 Me in New Otherton, looking dorkily happy to be there. Which I was of course.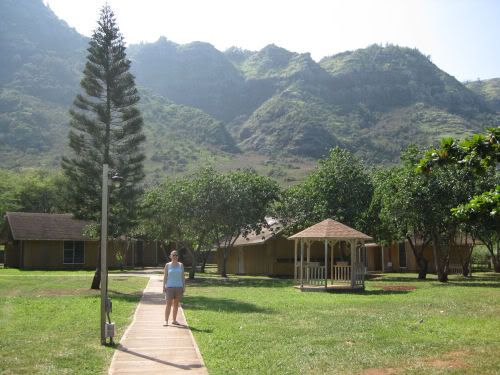 The insides of each cabin is just a bunch of bunk beds, a typical camp for children, but I think we all knew the inside of the Barrack houses were all filmed elsewhere. Still, it was fun to recognize the buildings from Lost, to see the playground (empty of course), the gazebo, the paved pathways and everything else. We also saw the rec room where Kate was being held, where Locke came in to say goodbye and tell her he was going with the Others.
Once done with our ogling of Dharmaville, we bought some ice cream and chowed it down while sitting in the shade before deciding to leave. By now we were hungry for real, so found some random place to eat lunch and as we were tooling along in the car afterwards, happened to spot one of the white vans that Lost uses to shuttle around actors and crew. Not thinking it was really them but wanting to double check just to make sure, we drove over and sure enough, saw the tell-tale yellow shirt of a Lost security guard. It happened to be on one of the many surfer beaches, so we parked and went over to talk to him.
He was very talky, most of the guards for Lost are very friendly I found, but then, when you're standing around by yourself for an eight hour shift you must get bored as hell. He was long winded, but the gist of it was that he was guarding the entrance to a huge area that houses seven active sets for Lost, including the beach camp. Since all beaches are public they can't prevent people from walking out to the beach camp, so he told us where it was, just a short drive up the road.
Still, we were suspicious that he gave the information so willingly and weren't sure if he was just trying to throw us off. Some surfer guy that was sitting under a tent had overheard our conversation and he told us that it was just a short walk up the beach from where we were, not far at all. He was incredibly friendly, gave us bottled water, chatted for a bit and told us he gave surfing lessons and had apparently taught several of the actors on Lost (not sure I believe that one). We thanked him and after a very short deliberation decided to walk up the beach according to the surfer guy's instructions, since we figured the security guard wouldn't give us easy directions to find the beach camp.
Well, that surfer guy was way off base. Or maybe a short walk to him differed greatly from what we considered a 'short walk' through sand and in direct sunlight in the middle of the day in Hawaii. We walked. And walked. And walked. In the baking sun with no breeze, sweating our asses off through sand, the only shade scant and infrequent. Anyone who has ever walked on sand knows what a workout it is, and even though I'm in fairly decent shape, it was trying, especially for a Northern girl that had recently left winter and was now in summer (it was 80F that day). The island was testing our faith in how much we really wanted to find the beach camp set.
Thankfully we had plenty of water, one thing we made sure of before setting out. Still, it was so damn far, we had already gone far enough where it was foolish to turn back, and we kept on thinking 'just around the next point'. Then I saw it, not the beach camp but something almost better: a new prop being built. A HUGE one, which I won't talk about here but we were pretty damn excited about it and took many pictures and were the first to break it to the Lost world, via Ryan from the Transmission, and eventually to DarkUFO.
Our trek was well worth it after seeing that and we found renewed energy to continue on to find the beach camp. I'm not sure how far we hiked, at least a mile or more one way, which I know isn't that far but feels tripled the distance when it's in sand and full Hawaiian sun. Let's just say that even with 85 sunblock on, I ended up getting sunburned that day. A ways past the prop we saw it, a loooong ways away but we finally found it: the beach camp.
Eko's church: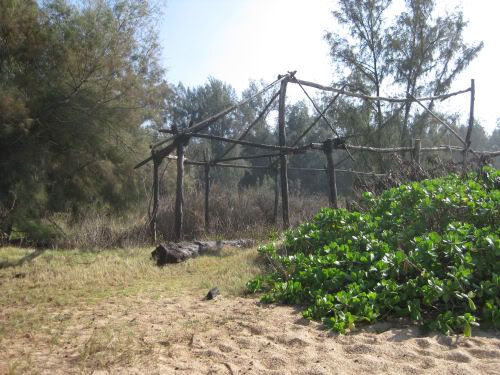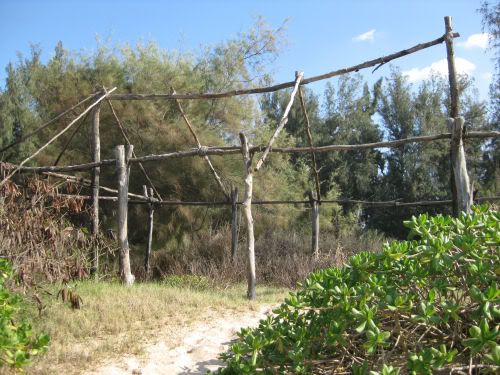 Lostie's Graveyard (they have a sprinkler going on that and the church, to try to green it up):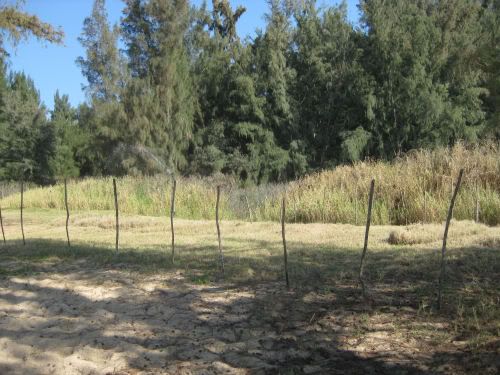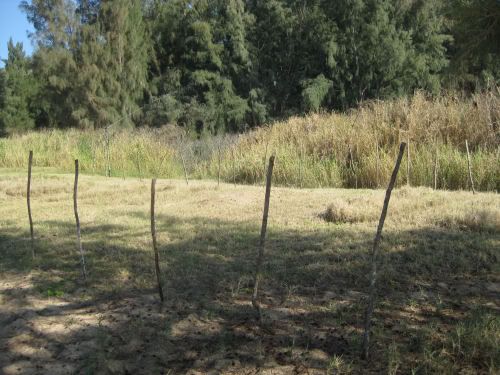 And finally, the Beach Camp. The orange fence is to keep us geeks off the set: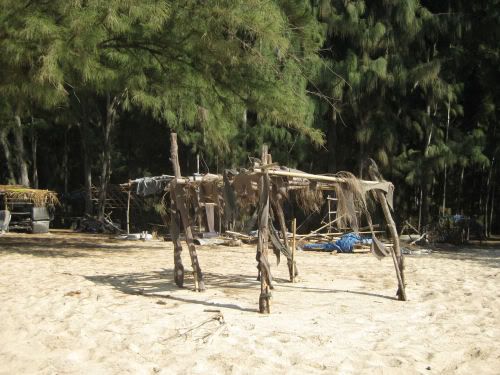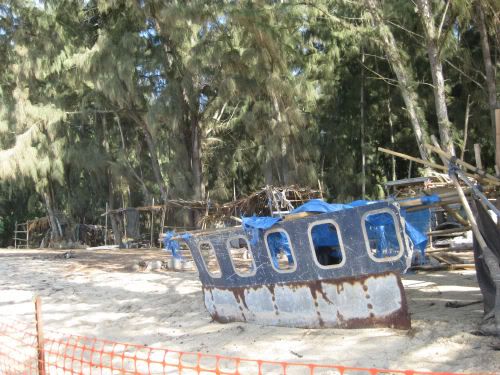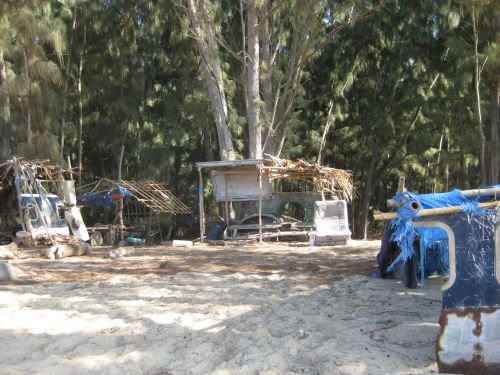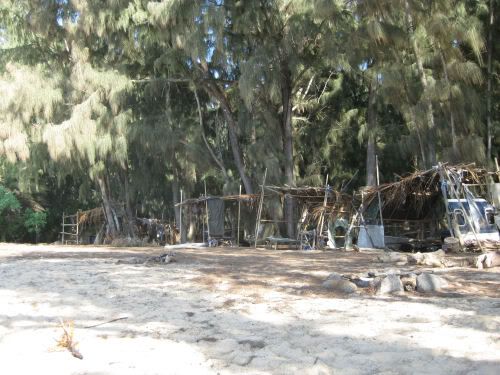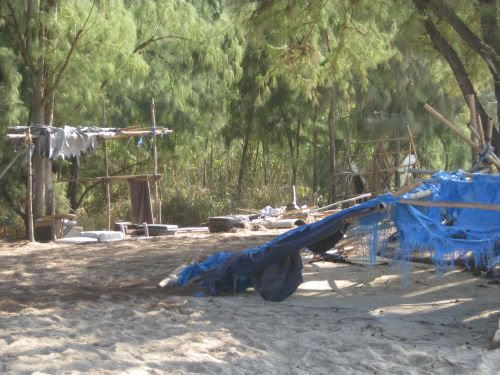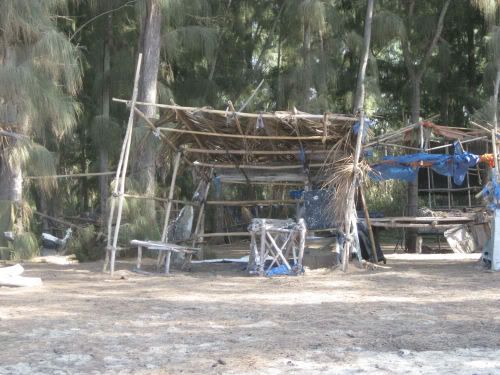 The beach camp is one of the places I had really, really wanted to see on my trip, so I was ecstatic to be there. In the show all the beach stuff was always my favorite, it brings me back to the early days of Lost before the Others, before the Barracks and the freighter people and time travel. Granted, the original beach camp is gone forever and this was the second one, the weathered and abandoned one, but still. It was a huge thing for me to see in person while it's still around. Even fenced off and closed to the public, I didn't care.
I suppose I'll mention here that the turn off the guard told us about, Papailoa, turned out to be about a five minute walk up the beach from the Beach Camp. I can't really say we walked for nothing the looooooooong way, since we did see that huge prop being built, but suffice to say that the next time we would come back here, we'd park on Papailoa. It's a dead end street - incredibly nice, million dollar homes I might add - but there's also a public parking spot towards the end of the street, that puts you very close to the set.
There were also a bunch of sea turtles around, we saw several sunning themselves on the shore. They're huge, a couple hundred pounds I'll bet. Paul took this picture of me standing next to one for size comparison. I'm a 5'6" average size woman.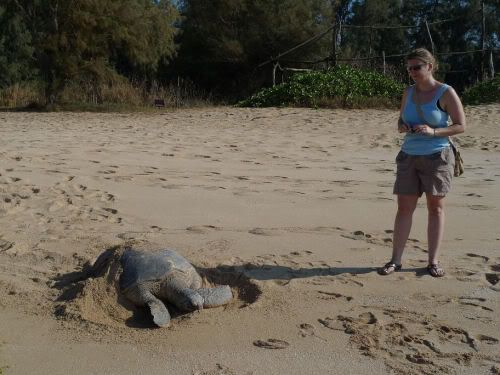 We hung around for quite a while on the North Shore, for regardless of one of the most famous Lost sets, this particular part of the island is simply amazing. If I could just pick up my whole family and make an easy move there, I would. Yes, we'd have to independently wealthy, but a girl can dream.